Source news.com.au
What are the entry requirements in Bali?
It's relatively easy for vaccinated Australians to enter Bali and get a visa on arrival.
Before you go, you'll need to bring your international COVID vaccination certificate (available through Medicare) and proof of a negative PCR test taken less than 24 hours before your flight. You can register online and complete an express PCR at the Melbourne Airport Histopath in Terminal One for $79.
You'll also need to download the Peduli Lindungi App on Apple or Android and complete an electronic Health Alert Card (e-HAC) before you check-in, once you have the results of your PCR test. You'll also need to complete a customs declaration before you land, which can now be done electronically.
Once you arrive, you'll need to complete another PCR test and quarantine until you get the result. You'll also need to complete another PCR test on day three, and then you're free to roam around Bali or expand your horizon and visit some of the other stunning islands in the Indonesian archipelago.
Bali has also made health insurance mandatory for international travellers.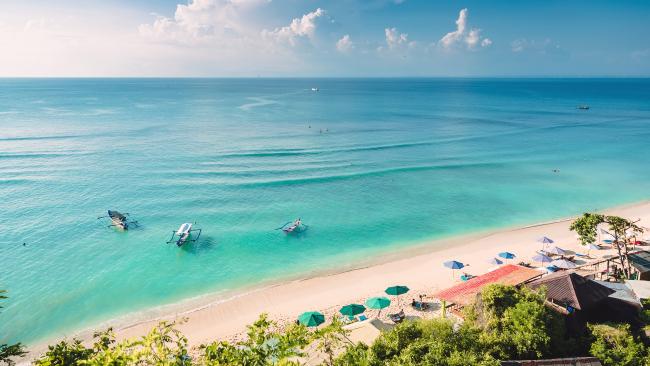 What accommodation should I book in Bali?
On the accommodation front, you'll need to stay at a CHSE-certified hotel for at least three days after you arrive. You'll need to present proof of your reservation on arrival in Denpasar, so print this out.
You can find a full list of approved accommodation options here, or take our recommendation and treat yourself to three beautiful nights right on the beach at the The Westin Resort Nusa Dua.
What happens if I test positive while I'm in Bali?
You should always, always, always, get travel insurance. If you test positive during your trip, you may be moved to an isolation hotel or hospital at your expense, managed by the local COVID taskforce.
What are the best sources of Bali travel information?
The default source for Australians should always be the federal government's Smartraveller website. However, there's lots of great information available on the Welcome Back to Bali website as well.
What do I need to do to return to Australia?
Coming home is also super simple. You'll need to get proof of a negative PCR test taken within 72 hours of departure and complete a Digital Passenger Declaration. It's very straightforward, just download the Australia DPD app on Apple or Android and complete this online before catching your flight home.
What else should I know?
Just in case you want to learn a little Indonesian before you go, selamat jalan means "happy travels".
---